Vinyl fencing is the type of fencing that requires the least amount of maintenance and upkeep. It is a long-lasting solution that will maintain its timeless look for years to come. Vinyl fencing is incredibly close to being a maintenance-free fencing solution. But, there are a few little things you can do as a vinyl fence owner to keep it in tip-top shape. 
In this blog post, we'll highlight some vinyl fence maintenance dos as well as some vinyl fence maintenance don'ts. These tips and tricks will help you to extend the lifespan of your premium vinyl fence for even longer! Here we go… 
Vinyl Fence Maintenance Dos
1. Do a yearly checkup on your fence.
At least once a year, take a close look at your vinyl fence. Check out the caps on the top of the fence posts, the metal connectors of posts and panels, and the slats themselves.
Is there leaning/looseness? Do you see anything hanging or not attached where it should be? Are all of the caps and connectors attached as they should be?
If you're seeing any issues with your fence, be sure to call up your trusted fence contractor. Here at Everlast Fencing, we are sure to provide any maintenance necessary for your vinyl fence. 
Additionally, Everlast Fencing provides a limited lifetime warranty on all vinyl fences! So, if anything happens with your fence, you can give us a call so that we can get it sorted out for you ASAP.
2. Do clean your vinyl fence regularly.
Washing your vinyl fence regularly will greatly reduce the chances of staining. Washing your vinyl fence will also mean that you get to enjoy the colour that you chose, rather than a faded, dirty colour.
To clean your vinyl fence, you can hose it down with your garden hose, use highly diluted dish soap in water to wash it with a sponge or squeegee, or pressure wash it.
However, if you are using a pressure washer on your vinyl fence, it's essential to be very careful with the pressure. Make sure to use a lower PSI at first and test out the pressure on a small, hidden section of the fence before going ahead with it.
Be careful not to use cleaning products or tools that are too rough or abrasive. Vinyl fences have a nice gloss on them, making them look shiny and new, and using rough cleaning products or solutions can ruin this.
3. Do clear the ground right beside your vinyl fence.
Over time, large roots can disrupt fence posts. This is why it is best to keep at least a few inches on each side of the fence free of large plants. This will help to extend the lifespan of your vinyl fence and help it to stay upright and robust.
Simply planting larger plants or trees a bit further from the fence or removing overly large plants from directly beside it can greatly reduce the chances of leaning or sagging.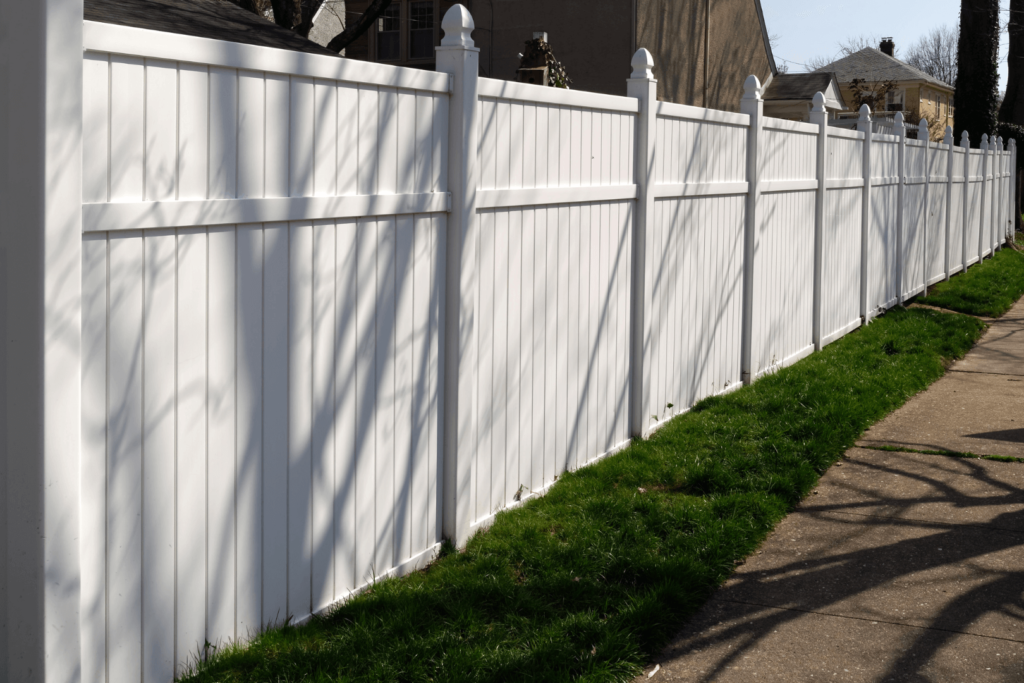 Vinyl Fence Maintenance Don'ts
1. Don't leave clippings or other greenery on your vinyl fence.
Leaving greenery, clippings, leaves, or other debris to sit on your vinyl fence can not only cause staining but can also result in algae growing on the outside of your vinyl fence. Obviously we don't want this.
2. Don't let dust and dirt build up on the vinyl fence.
Although the colour of your actual vinyl fence may be a very nice, clean, aesthetically pleasing one, if you let a layer of dirt and dust build up on it, your fence will go from fab to drab. Leaving the dirt and dust on your fence for long periods of time will make it lose its sheen and timeless look.
3. Don't let trees or large bushes grow into the vinyl fence.
Vinyl fences are very durable and strong, however, they cannot withstand the pressure of a tree growing into them or strong branches of a bush trying to grow between them. Make sure to keep your trees and bushes trimmed accordingly in your backyard. Vinyl fences will stay the sturdiest for the longest when they are not being pushed on by bushes or trees attempting to grow.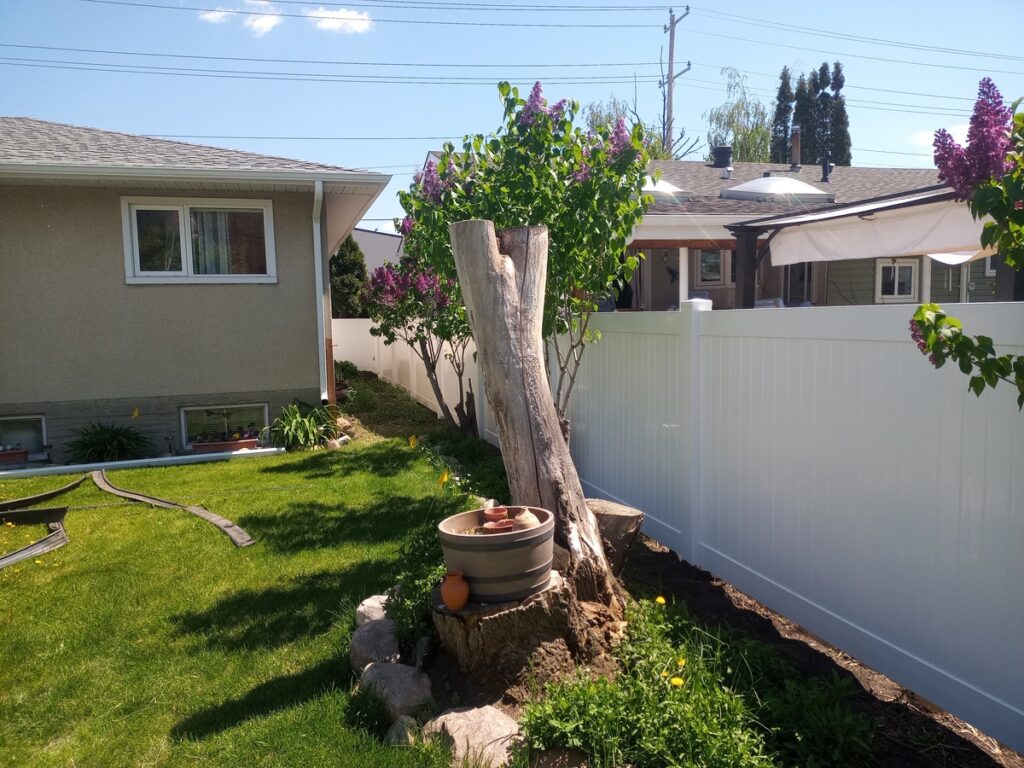 4. Don't lean heavy objects on your vinyl fence.
Again, applying a large amount of pressure for a consistent amount of time won't help your vinyl fence to maintain its sturdiness and durability. Instead of leaning large objects against it, consider laying them down beside it or leaning them against the sturdy foundation of your home.