We'd be lying to you if we said that we aren't huge proponents of vinyl fencing here at Everlast Fencing. The benefits and value that we've seen vinyl fencing offer to our customers over the years speak for themselves. However, how do you know if vinyl fencing is right for you? How do you know if it's right for your property?
Until a homeowner or property owner is in the market for a new fence for their property, fencing can be easy to ignore or disregard. However, when the time comes to make your decision regarding what fencing option you want, it can be helpful to consider what makes different options the right choice for you.
We understand that vinyl fencing is not for everyone or every property at the end of the day. So, if you've ever contemplated whether or not vinyl fencing is right for you and your property, this blog post is for you! In it, we'll take you through 5 signs that vinyl fencing is right for you so we can make your decision easier. Let's get right into the first sign.
1. You like the classic white fence look more than the wooden fence look
No, looks aren't everything. But, they're very important to consider when you're choosing a fencing option for your home or property. No matter the other benefits of different fencing options, if you hate what you see whenever you look into your backyard, it's not worth it.
Although the classic white picket fence look isn't for everyone, it can provide a gorgeous timeless look that will truly never get old. Vinyl fencing comes in various colours and there are many style options available that will let you customize the look of your fence to your specific preferences. However, if you prefer the organic, rustic look of a wooden fence, then vinyl fencing likely isn't for you.
Vinyl fencing doesn't require new paint jobs every few years and will maintain the classic colour of choice for decades. If you'd prefer to update the colour of your fence regularly with new paint jobs, wooden fencing makes more sense. However, if you'd rather not spend the time and exert the effort to paint that often, vinyl fencing is definitely the best choice for you because the colour will last for what seems like forever.
2. You prefer making an upfront investment that will last you longer
One of the most important signs that vinyl fencing is right for you and your property is that you are willing to make a more significant upfront investment in your property in order to achieve those long term results. Contrary to popular belief, vinyl fencing actually isn't that much more expensive than wooden fencing these days.
After the price increases that have occurred in the lumber industry over the past few years, the difference in the cost of the two has decreased significantly. However, the durability of the two has not changed. Wooden fencing may require an ever-so-slightly lower upfront cost, however, it is nowhere near as durable as vinyl fencing.
The upfront investment that vinyl fencing requires is well worth it for the decades of use and little to no maintenance required that the vinyl fence will provide. Vinyl fencing is right for homeowners and property owners who recognize that the return on investment is more important than the investment itself.
3. You care about privacy for your property
Privacy and seclusion are not the number one priority for every homeowner or property owner, however they are very essential for some. Vinyl privacy fencing provides this privacy and seclusion, making it the best choice for those who value that.
Different fencing options provide different benefits and levels of privacy. We understand that not all homeowners or property owners desire the same level of privacy from their fence.
If your backyard overlooks a gorgeous view of a lake or forest that you'd like to be able to see, vinyl privacy fencing probably isn't the best option for you. However, if you've got neighbours on all sides and a less than pleasing alleyway behind your home, vinyl privacy fencing can turn your backyard into a private oasis, away from peering eyes.
4. You need a fence that is durable and can withstand regular family life
What do you use your backyard for? Is it rarely used or do you spend every warm day frolicking or relaxing in the outdoor space? Do you have lots of kids or pets? How lively do your family sports games get?
Vinyl fencing can withstand and stay strong through the regular pressure that comes with pets and family. Part of the incredible durability of vinyl fencing is due to its ability to flex under pressure without breaking.
Although most fencing options are sturdy at first, vinyl fencing will actually stay that way for decades, unlike wooden fencing. Wooden fencing will rot, warp, and fade over time with the regular elements such as snow, rain, and sunshine. As time goes on, the rotting, warping, and fading of the wooden fence will reduce the strength and integrity of the fence as a whole.
Vinyl fencing, on the other hand, is moisture- and water- resistant and will not warp or rot, even with the regular elements that it will be exposed to. It will maintain its strength and durability for decades to come so that you, your family and friends, and your pets can use the yard to its full potential without worrying about your fence.
As an Edmonton-based, locally owned and operated company, Everlast Fencing also understands that extreme temperatures make vinyl planks more brittle and susceptible to breakage. However, in our experience, by leaving vinyl fencing alone during the cold snaps, this breakage can be entirely avoided. No other cold weather related issues have occurred, making vinyl fencing a viable option that will stay durable throughout Edmonton's harsh winters.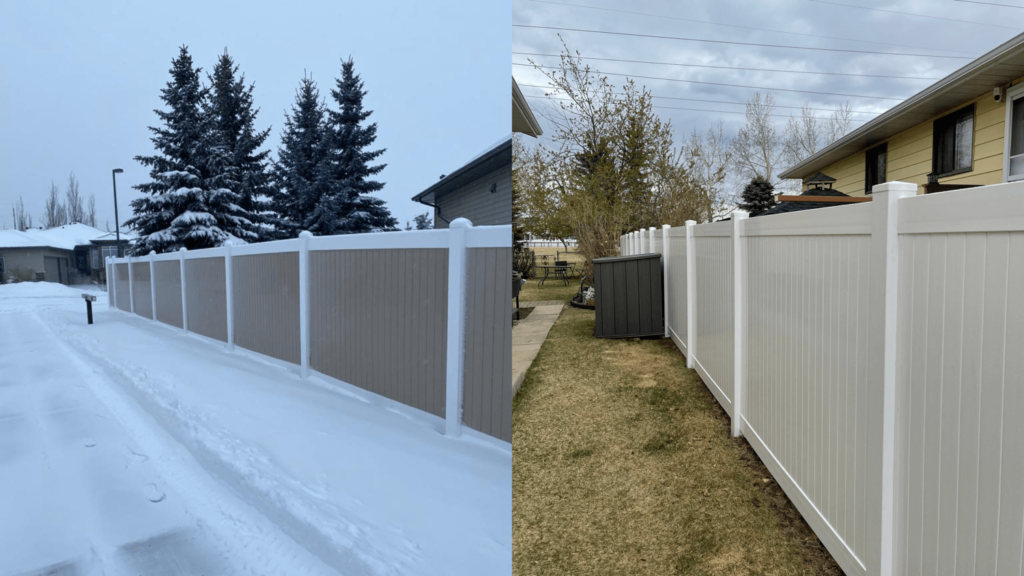 5. You want to install a fence that will last you for decades with little to no maintenance
Whether you're planning to stay and enjoy the property with the vinyl fence on it or sell the property and move on, vinyl fencing is the best option for you if you want it to last. If you're not interested in increasing the value of your home but are instead focused on simply getting a fence up, vinyl fencing may not be worth it to you. However, vinyl fencing can greatly increase the value of your property for you or future owners and can, therefore, be very worth the investment.
Settling down into a long-term home means that you want to curate the property and home to best suit your needs and wants. Investing in a premium vinyl fence will help you to create the backyard oasis of your dreams. It will also provide you with a more usable, private space.
Your home is your biggest asset and should be treated as such. Even if you don't personally plan to stay in the property for long, investing in a premium vinyl fence increases the curb appeal and property value. This will mean that you will have a larger return on your investment and be able to more easily sell your property to the next owner. With the limited lifetime warranty that vinyl fencing from Everlast Fencing comes with, both you and any future property owners can reap the benefits.
Little to no maintenance is required for vinyl fencing. Not only are they easy to clean, they're also very simple to fix if this becomes necessary. Additionally, as mentioned above, fading, rotting, and warping are very unlikely to happen in vinyl fencing.
---
Now that you've reviewed these five signs, if you feel as though you align with them, vinyl fencing is the right choice for you and your property. When you're ready to get started with your fencing project here in Edmonton, give our team of experts a call! We look forward to helping you enjoy the benefits of a premium vinyl fence.